No Ordinary Asphalt Pavement
In 1997 Narragansett Improvement began installing StreetPrint® Pavement Texturing, a system that "stamps" asphalt. StreetPrint® is the first decorative patterned paving product that was actually part of the asphalt pavement, thus maintaining the continuous smooth asphalt surface. Narragansett Improvement has since included a comprehensive range of decorative asphalt products that include StreetPrint™, and Traffic Patterns XD.
As an accredited applicator, we offer a complete line of decorative paving products with all the benefits of ordinary asphalt — it's durable, forgiving, easy-to-install, cost-effective and safe. But it has the design potential of more expensive decorative materials such as cobblestone and brick.
Whatever your project — your driveway or parking lot, pathways for a park, a decorative plaza or a unique logo for your business — with StreetPrint Products you can do more with less and make a positive and lasting impression.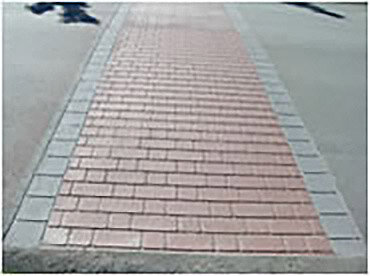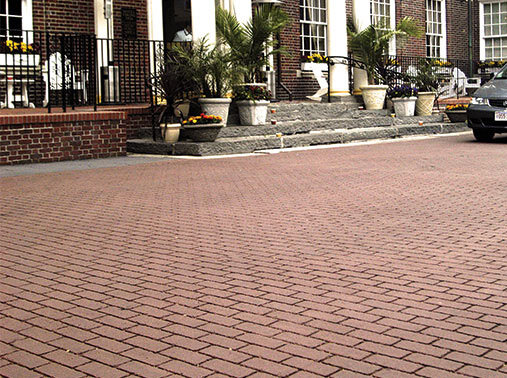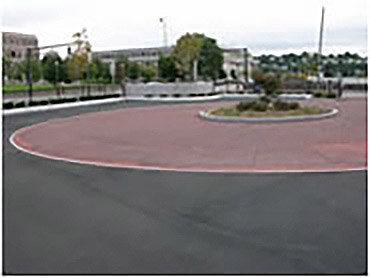 What is StreetPrint®?
The Beauty of Decorative Asphalt
Asphalt paving is one of North America's building blocks. The United States has more than 2 million miles of paved roads and highways, and 94 percent of those are surfaced with asphalt.
The reasons are simple; asphalt can be designed to work anywhere and is smooth, quiet, durable and safe, not to mention it is the most recycled material in the United States. According to the U.S. Environmental Protection Agency and the Federal Highway Administration, about 90 million tons of asphalt is reclaimed each year, and over 80 percent of that total is recycled back into new asphalt paving.
One challenge has been finding practical decorative and color treatments that work in asphalt pavement. Traditional materials such as bricks, pavers and stamped concrete cause structural problems such as shifting, settlement and cracking when put into the pavement surface.
Why StreetPrint®?
StreetPrint® Features and Benefits
Flexible Pavement
StreetPrint® is a flexible pavement which makes it resistant to cracking and eliminates the need for expansion joints.
Decorative Appeal
StreetPrint® makes easy to create artwork in your pavement surface. This can be done quickly and creates a whole new opportunity for decorative pavement designers. A wide range of patterns and colors can be combined to create eye-catching one-of-a-kind designs.
Durability
The structurally sound asphalt base is without joints or seams which prevents shifting, trip hazards, weed growth and damage from snowplows and sweepers.
Maintenance Savings
The StreetPrint® surface has low maintenance requirements and lower maintenance costs than other decorative surfaces.
Seamless Repairs
Reheating technology and coating systems enable easy repairs (if needed) to "good as new" condition.
Salt Resistance
StreetPrint® does not react to salt used for deicing or from salt air in coastal climates. Portland Cement concrete products including cement bricks can spall and degrade through the freeze thaw cycle created by deicers.
With StreetPrint® Solutions you can:
Create attractive one-of-a-kind sidewalks, plazas, driveways and more
Create custom pathways and logos for buildings and facilities
Make a lasting impression with unique designs
Enhance public awareness of an organization's brand
Safely channel pedestrian traffic with raised or level medians.
What does StreetPrint® Cost?
StreetPrint® combines the flexibility and strength of asphalt pavement with leading-edge asphalt coating systems. This results in a cost-effective, durable surface with low maintenance requirements.
Please note that all jobs are different, and require individual pricing based primarily on the location of the project, the level of complexity, and the number of patterns/colors incorporated in the design.